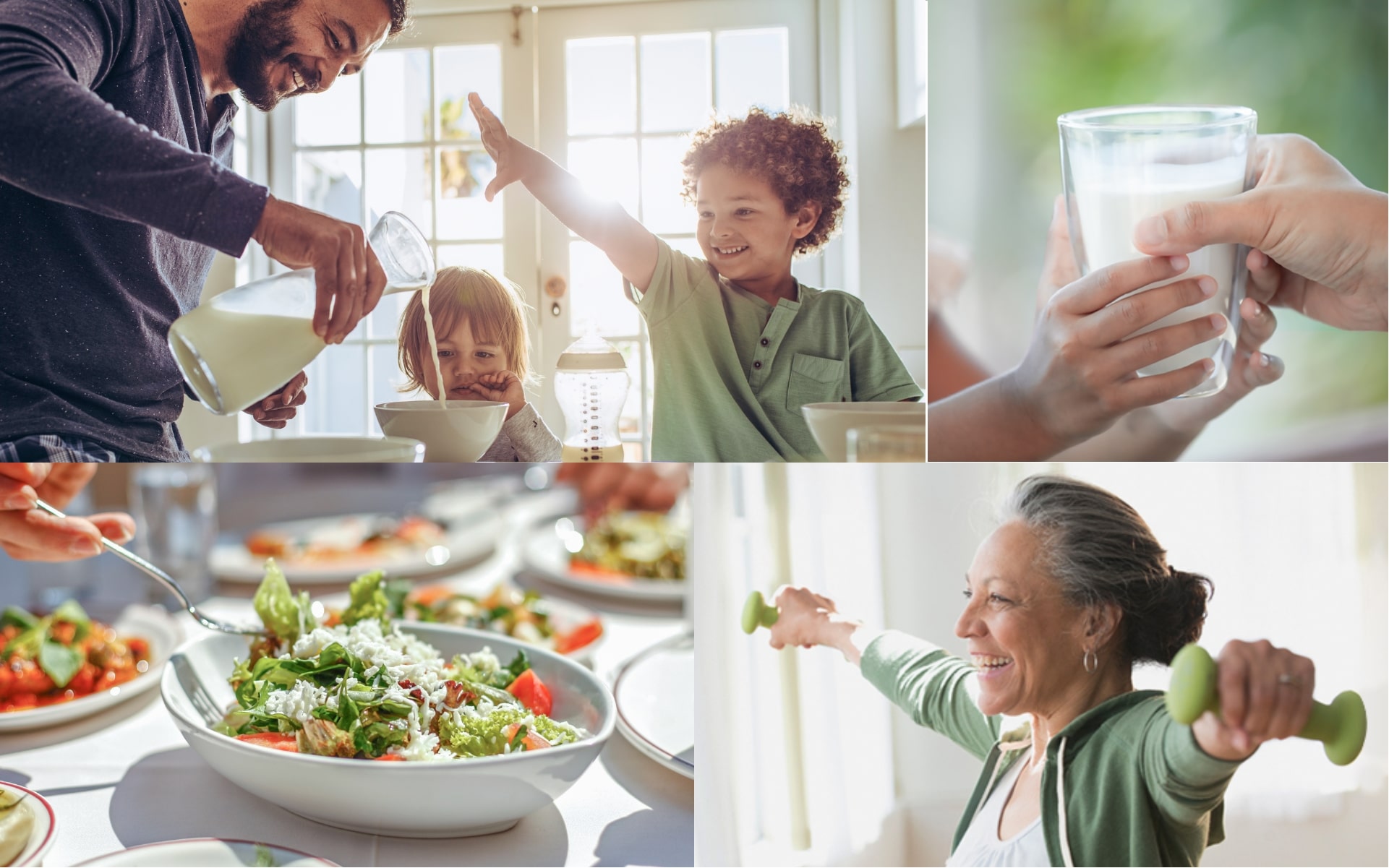 We celebrated the 25th anniversary of our foundation in 2023.
We see the next 25 years as our "second founding period" and have formulated a Long-term Vision, "LACTO VISION 2032," for the next 10 years and a three-year Corporate Business Plan, "NEXT-LJ 2025," starting in 2023.
Under "LACTO VISION 2032," we aim to increase profit-earning opportunities by solidifying the foundation for the next-generation growth stage, expanding the range of products handled, and enhancing functions, while building on the strength of our existing businesses.
In addition, we will continue to strengthen our management base so that we can respond quickly and flexibly to changes in the business environment.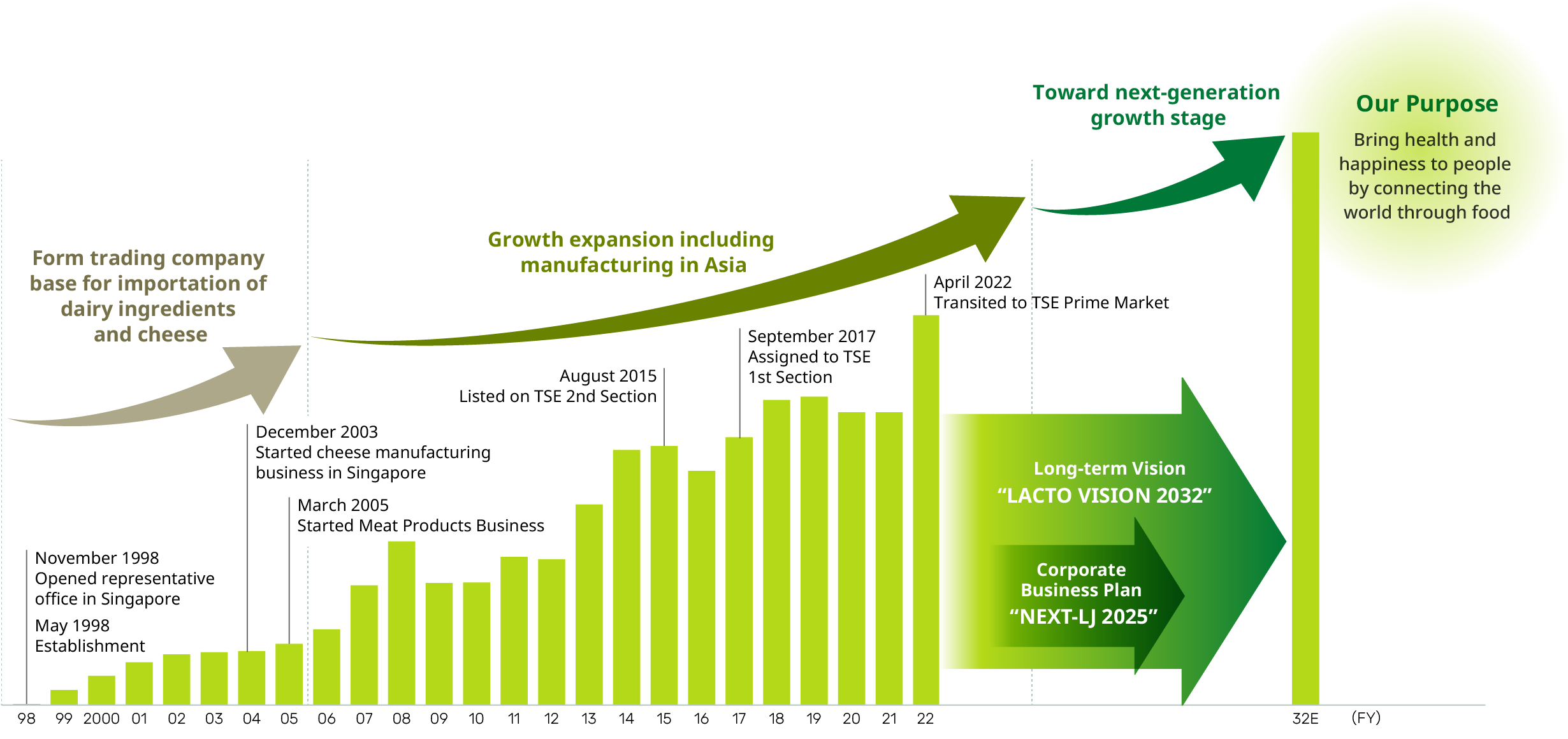 Note: FY11/1998~FY11/2012: Non-consolidated sales / FY11/2013 onward: Consolidated sales
Founded as a trading company specializing in dairy products, we have continued to expand our business domain and achieve profitable growth, including the launch of our processed cheese manufacturing and sales business in Southeast Asia in 2003.
Under our new management philosophy, we will continue to create demand for "food" that meets the needs of the coming era and provide diverse and abundant value to our various stakeholders, thereby achieving sustainable growth.
Change from a trading company specializing in dairy products to a complex food company

Become No. 1 in Japan and the world in dairy product transaction volume

Create demand through best matching and contribute to the development of the dairy and livestock farming industries


We have identified six materialities and set individual measures and quantitative targets (in part)
Lacto Japan aims to grow sustainably with society through its business activities.
Therefore, we have decided to incorporate ESG targets into our Long-term Vision, as well, and have identified six materialities based on the characteristics of our business and megatrends in society, and will proceed with initiatives accordingly.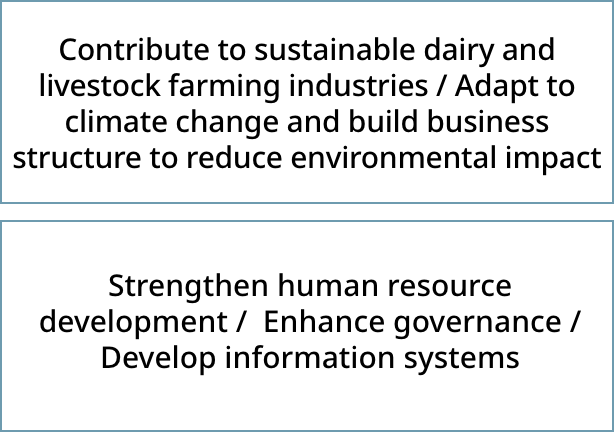 As in the past, the basic policies of our Corporate Business Plan are organized into three categories: "Base," "Growth," and "Challenges." In the existing businesses, which are our "Base," we will continue to evolve with ingenuity while appropriately assessing the business environment. Next, with regard to "Growth," we will expand our Asian business with processed cheese manufacturing and sales at its core. And then, under "Challenges," we plan to build next-generation businesses, including the development of functional food businesses that lead to better health.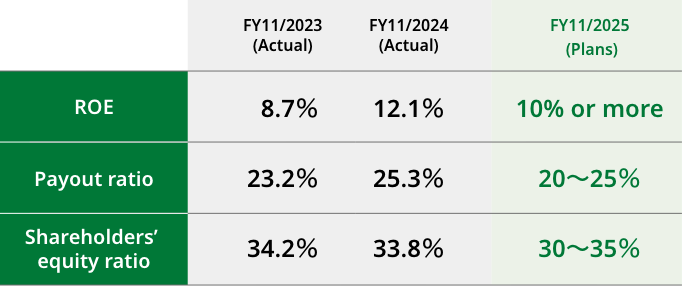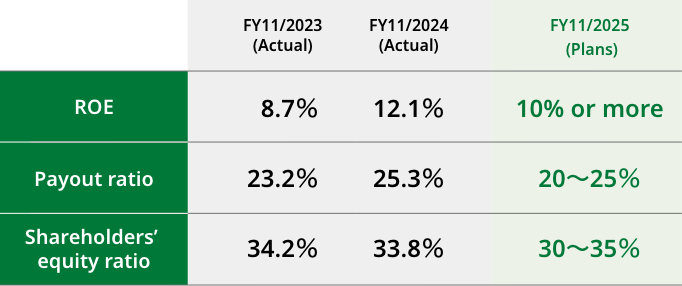 In order to achieve medium- to long-term growth, we will combine investment in the Asian Business with the reinforcement of our financial position. At the same time, we aim to increase the dividend payout ratio, positioning the return of profits to shareholders as a key management issue.