About Lacto Japan
We will introduce
Lacto Japan's
"Features and Strengths"
and "Future" here.
About Lacto Japan
We are a trading company
specializing in handling
dairy ingredients that are
indispensable for daily life.
Ingredients for dairy products that are actually in short supply.
Lacto Japan is a stable supplier of imported essential ingredients.
Dairy products consumption in the Japanese market continues to grow and has increased approximately six-fold since 1960. This is due to the diversification of food caused by economic growth and changing lifestyles. In response to this increase in consumption, domestic raw milk production alone is insufficient to supply raw materials, and the reality is that approximately 40% of Ingredients for dairy products (dairy ingredients) are currently imported from overseas. While consumption is expected to remain at a high level in the future, domestic raw milk production is on a plateauing trend, which is expected to make the country increasingly dependent on imports of dairy ingredients. As a trading company specializing in handling imported essential dairy ingredients, Lacto Japan plays an important role in providing a stable supply.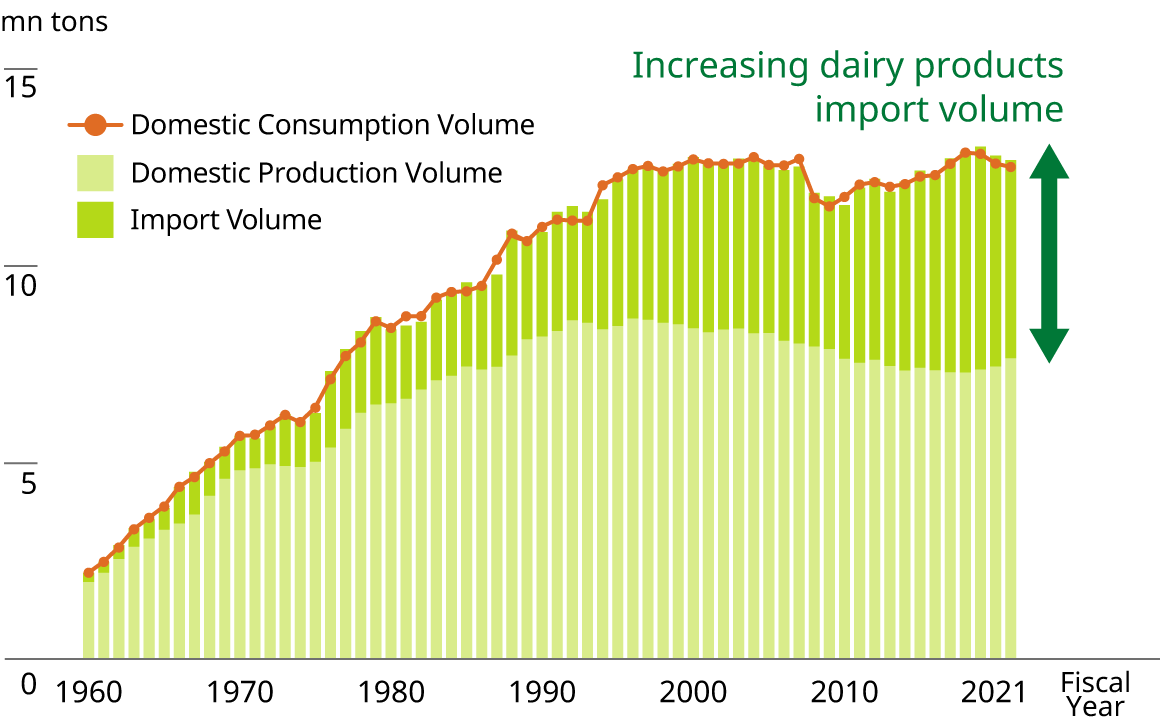 Source: "Food Balance Sheets," Ministry of Agriculture, Forestry and Fisheries
Note: Data represents raw milk equivalent and includes food and feed.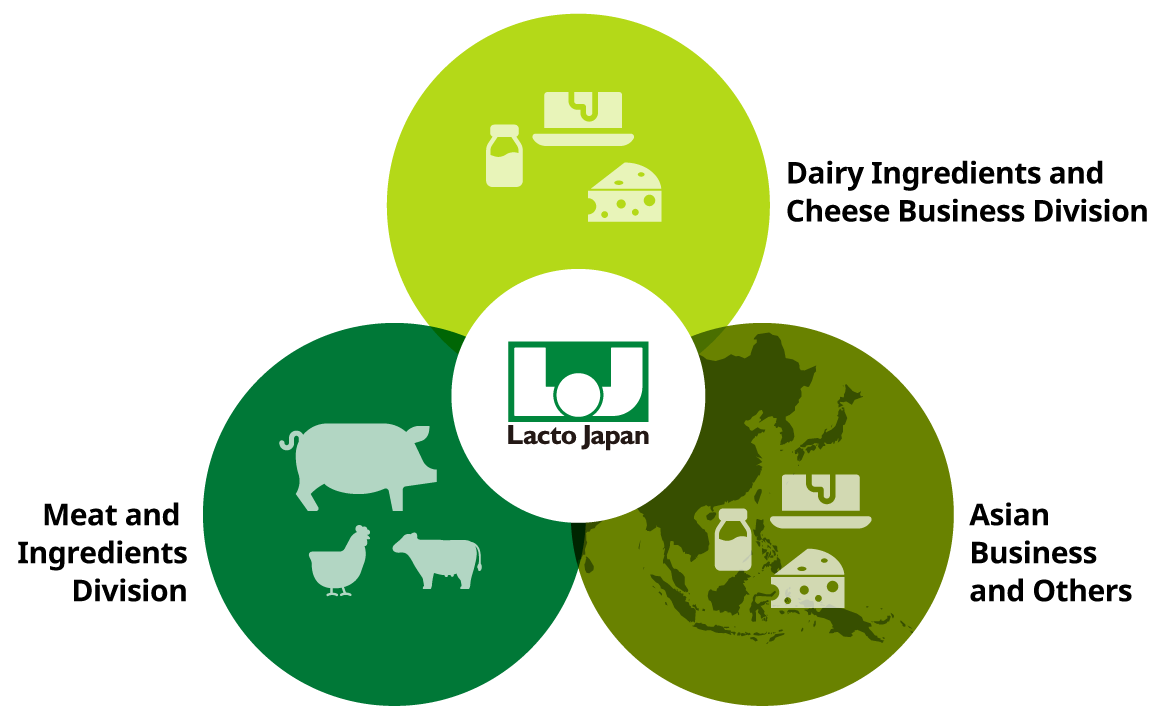 Based on the know-how accumulated in the dairy ingredients import business, we have expanded our business domain to meet a wide range of customer needs.
Lacto Japan's main business in Japan is the import and sale of dairy ingredients and cheese. The volume we handle is the largest in Japan.
Furthermore, utilizing the know-how cultivated in the dairy ingredients import business, we entered the meat products business in 2005 and have been importing and selling processed meat products such as pork and dry-cured ham. In the Asian business, we are engaged in the import and sale of dairy ingredients and the manufacture and sale of cheese, mainly in Southeast Asia. In both businesses, Lacto Japan's unique high level of expertise and detailed services cultivated through its domestic business have won the support of many customers. In 2020, we began importing and selling whey protein and other functional food ingredients as a new business.
Lacto Japan's "Features and Strengths"
We have a network,
knowledge,
and know-how that we have
cultivated over the years.
We have a diverse network that provides a stable supply.
Dairy farming requires "large tracts of land, a cold climate, and clean water," and regions with enough production capacity to have export capacity are limited to Europe, Oceania, and North America.
Lacto Japan has local subsidiaries in these major production areas and has established a network of major suppliers around the world. This "global network" enables stable procurement of dairy ingredients even when milk production fluctuates due to changes in the external environment, such as climate change.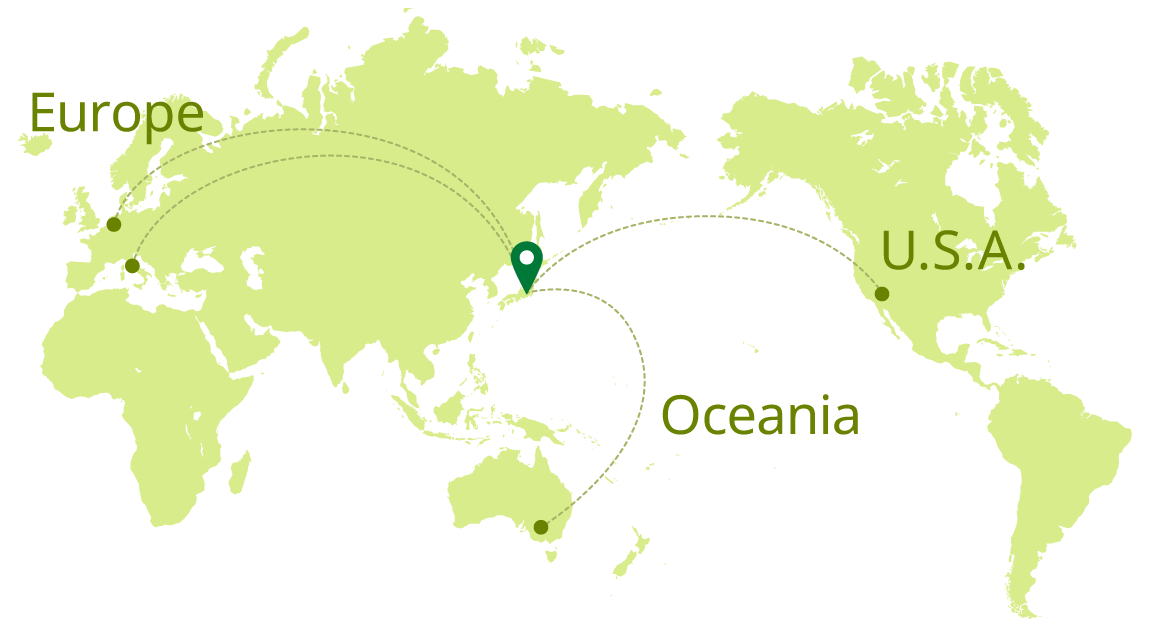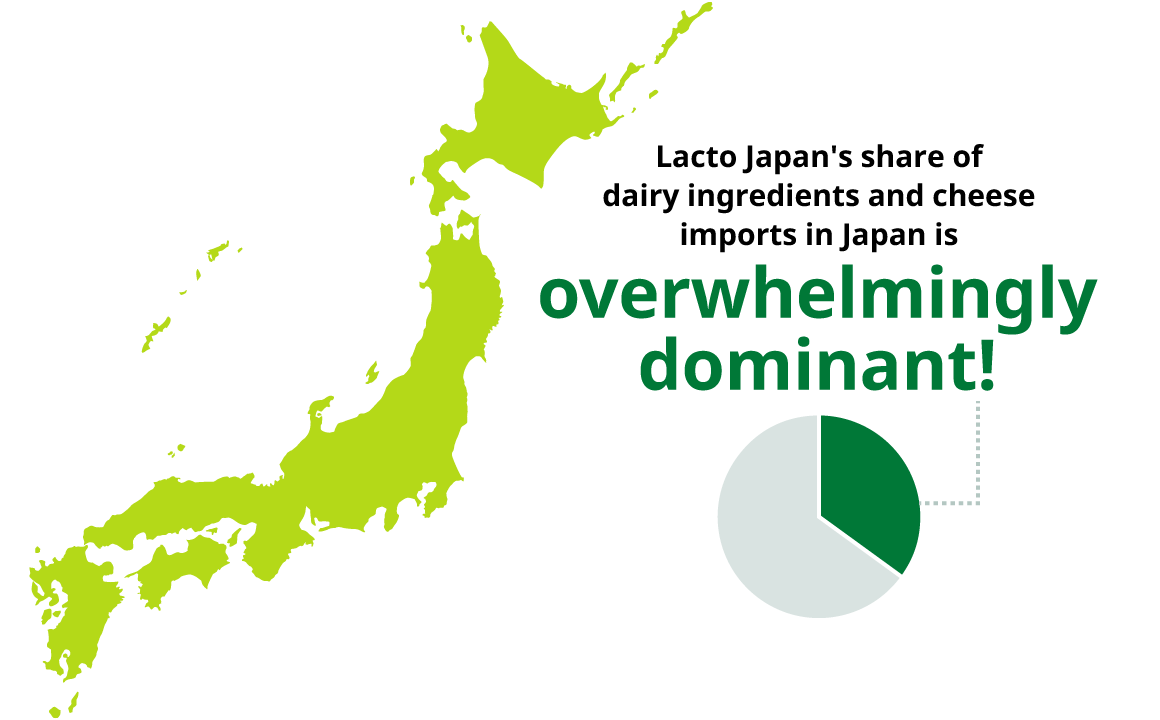 We have established a unique position
in the business of importing dairy ingredients.
Lacto Japan handles more than 30% of Japan's imports of dairy ingredients, giving it a leading share of the market.
However, Lacto Japan's role is not merely to procure and sell raw materials. Throughout our history of specializing in the sale of dairy ingredients, we have built equally good relationships with many stakeholders, including Japanese dairy farming organizations, related ministries and agencies, domestic and foreign dairy manufacturers, and food product manufacturers.
We are building a unique position as a "trading company specializing in dairy ingredients" by proposing solutions to issues faced by the dairy farming industry, developing products for Japan in cooperation with dairy manufacturers around the world, and proposing dairy ingredients that match the needs of our customers.
As a trading company specializing in dairy ingredients,
we have a highly specialized staff.
In importing dairy and livestock related raw materials, we have to be familiar with trends in producing regions, international market conditions, commodity characteristics, trade operations, and customs duties in order to provide high value to our customers.
In addition, importation of food ingredients is always fraught with problems, which require prompt and appropriate responses. That is why, unlike general trading companies, Lacto Japan's staff has grown by specializing in specific fields and continuing to develop its expertise.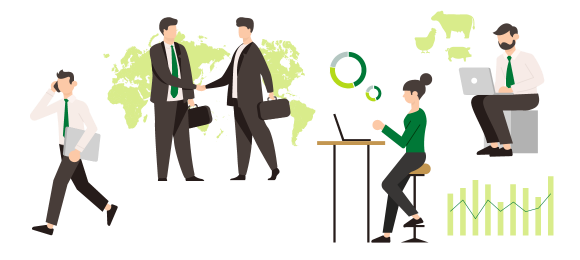 Lacto Japan's "Future"
We aim to achieve
sustainable growth by further
evolving our own strengths.
Responding to rising demand for dairy products
by "evolving" existing businesses.
Lacto Japan is responding to the growing demand for dairy products by "evolving" its existing business with "stable supply through diversification of supply sources," "consulting sales to create best matching," and "exporting Japanese food ingredients."
In particular, we are implementing "diversification of supply sources" as a priority measure. In the case of dairy ingredients and cheese, we are further promoting network building in major production areas by diversifying procurement routes and methods to ensure a stable supply and to address climate change issues. In regard to meat, we are diversifying our business by expanding our suppliers and procurement items.
Number of dairy farms

Source: Livestock Statistics, "Continuous yearly statistics for number of dairy cattle feeding households and heads,"
Ministry of Agriculture, Forestry and Fisheries

Lacto Japan's Dairy Ingredients and Cheese Business
(sales volume)
Demand trends in Asia

Source : Euromonitor International Limited

Lacto Japan's Asian development
Utilizing know-how to develop new businesses for Asia, which holds great potential.
Lacto Japan has established a position in the Asian market, where the Westernization of food has been progressing, and has developed products that meet the unique needs of the local market while contributing to the popularization of dairy products.
We will continue to build a foundation to meet demand by expanding cheese production capacity in Singapore, strengthening the local sales structure, expanding sales areas and adopting other measures. Asia also has diverse religions and food cultures. Based on our respect for such cultures, we aim to further expand our Asian business by developing high value-added products such as vegan cheese that meet local needs.
Building next-generation businesses to meet growing health needs.
With an eye on sustainable growth, Lacto Japan aims to build next-generation businesses by focusing on the development of new products and proposals to customers in fields with which we have not had dealings in the past.
Demand for health foods is expected to continue to grow. The dairy ingredients handled by Lacto Japan are attracting renewed attention for their value as a protein source, and we are strengthening sales to the sports nutrition field in addition to proposing them to food manufacturers, our existing customers. In addition, we plan to handle more functional foods other than those derived from milk and plant-based ingredients, as the needs for health foods are broad-based.
Health food product market size trends and forecasts

Source : Yano Research Institute Ltd.
"Survey on Health Food Market (FY2022),
released March 7, 2022"

Note 1. Based on manufacturers' shipment value
Note 2. FY2021 figures are estimates; FY2022 figures are forecasts.

Building next-generation businesses
For more information about Lacto Japan