As a specialist food trading company, we believe that the selection of suppliers is the first step in ensuring safety.
We conduct audits of our suppliers. We ensure that our suppliers meet appropriate standards by directly visiting their production sites to check for problems with quality, technological capabilities, customer service capabilities and safety management systems for each production process. During the actual audit, we closely investigate whether manufacturing processes that meet Japanese import standards and the safety and quality levels required by customers have been established, and whether factories comply with food defense and security requirements. We have established a rule that we cannot start transactions with suppliers that do not meet our standards, and even with suppliers that we already trade with as well, we discontinue trading in principle when the results of regular supplier audits indicate that they do not meet our standards and cannot improve.
Furthermore, in recent years, inspections and audits of suppliers by our customers have also increased and staff at Lacto Japan make sure to accompany customers at these times. As part of this process, we gain an understanding of the desires and suggestions expressed by customers and also provide advice to suppliers for the purpose of improvements when required. Within the supply chain, Lacto Japan thus functions as a hub between suppliers and customers in order to improve the safety and quality of products.

Furthermore, our rigorous quality checking system also includes sample tests and quality control tests conducted by third parties in domestic and overseas distribution channels.
To provide proposals that suit the needs of our customers, which are becoming increasingly sophisticated and diverse, we need to create a business model by combining a variety of suppliers. We are working together with our suppliers to ensure safety and quality control based on the laws and regulations of each country and the required standards of our customers, and we are building strong partnerships with our suppliers so that we can develop together.

Lacto Japan handles many kinds of diverse dairy ingredients and cheeses made from raw milk. Our product range exceeds 500 items. As dairy ingredients are products that require careful handling and the tariff system is complex, rigorous inspection and procedures are required at the time of importation. Lacto Japan has met various standards through its sourcing and sales networks cultivated during its many years of dealing with dairy ingredients and through its high level of expertise.

Raising cattle for milk production is essential in Lacto Japan's business model but raising cattle takes a considerable amount of time, so it is not always possible to respond to sudden increases in demand. Moreover, it is possible that climate change, drought, and disease outbreaks could affect the raising of cows and lactation and reduce raw milk production. Imported products are also affected by foreign exchange rates and interest rate trends. Therefore, Lacto Japan is working to ensure stable supply by securing supply sources in various regions of the world such as Europe, Oceania and North America while gaining a detailed understanding of forecasts of demand at customers that are purchasers of its products.

Milk is generally collected from each dairy farmer and stored in large tanks owned by the supplier. At that time, as the supplier stores samples of milk collected from each dairy farmer, even if a problem regarding quality were to arise, we can check the quality going back to the commercial farm. Thus, we have established traceability in the entire supply chain.
In addition, the use of hormonal agents during the growth process, safety management standards, sterilization conditions, and packaging standards in processes differ depending on the country, region or supplier. Therefore, we conduct verification and management to ensure that the standards required by our customers and the requirements of their specification sheets are met. When commencing transactions, we not only check essential items such as whether the supplier's factory has installed metal detectors and x-ray detectors to prevent the entry of foreign substances and whether it has safety measures for employees, based on data, but also visit sites to check actual processes.
In recent years, as cases of customers requesting information regarding the traceability and safety of dairy ingredients have increased, we have been endeavoring to accumulate relevant information. When a customer visits a dairy ingredient manufacturer that is a supplier to conduct an audit, an employee of Lacto Japan accompanies the customer, and through mutual collaboration with the supplier and the customer we carry out activities to understand the situation and improve it.
Lacto Japan's Meat and Ingredients Division handles processed meat products, namely, chilled and frozen pork, dry-cured ham and salami.
Pork accounts for about 80% of sales and imports from the United States represent about 70% of these sales. Since initially commencing business, we have traded with a major manufacturer in the United States and now we also source pork from manufacturers in Canada and Spain. Moreover, we are importing dry-cured ham, salami and other products from Spain and Italy.
Our main supplier in the United States, which has traded with companies around the world for many years, is highly reliable, with rigorous standards for quality control, food defense, traceability, and environmental consideration in the production process. However, since the start of trading, Lacto Japan's employees have never failed to visit local production sites to confirm whether production is being carried out in accordance with these standards.
In many cases, products supplied to Japanese customers have strict requirements for meat parts, cutting methods, and packaging standards, in particular. At Lacto Japan, we provide guidance to our suppliers regarding these advanced quality standards and we are working together with them to make daily improvements in relation to appropriate processes.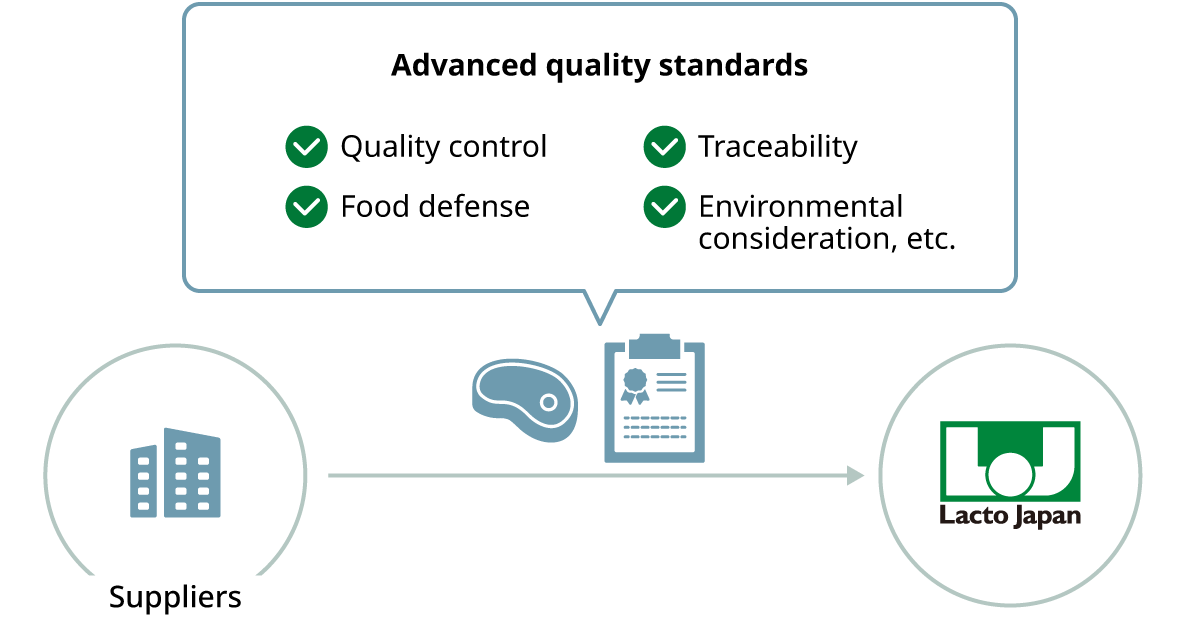 When importing pork, chilled pork is loaded into marine containers at the factory and sealed, and source loading is performed, which involves not opening the containers after marine transportation until they are inspected in Japan. At the time of shipment, as well, we select shipping companies that are able to appropriately perform temperature management and we have developed a system that enables temperature charts to be immediately checked even if a problem should arise.
In recent years, the use of imported pork has been expanding with the improvement of refrigeration and freezing techniques, and the standard for the general viable bacteria count has tended to become stricter than before. Furthermore, the impact of international trade negotiations on the market, such as TPP11, the Japan-Europe EPA and other FTAs, cannot be ignored. While accurately grasping these trends, Lacto Japan will continue to strive to supply processed meat products in a stable manner.