Lacto Japan is supplying optimal ingredients based on the technologies it has cultivated through collaboration with suppliers and customers over many years.
We have set up laboratories at our overseas factories and we are developing products that suit local markets and specific tastes based on local leadership. For example, in the case of cheese, we are promoting original research and development that is possible only with Lacto Japan's thorough knowledge of the characteristics of ingredients, such as ease of processing as an ingredient and the development of new flavors that have never existed before.
Furthermore, we actively provide information to the R&D departments of our customers. The information we provide ranges from information on the development of lactose-free milk powder for lactose intolerant people to information on organic ingredients in response to the increase in health consciousness in recent years. In the process of providing such information, we are able to understand the various R&D needs of our customers and propose appropriate ingredients to meet those needs.
In addition, we are jointly engaged with our customers and suppliers in efforts to add value to dairy by-products. Lacto Japan regards the declining birthrate and aging population and responding to health needs as important social issues. Therefore, we intend to address these issues in an integrated way with the supply chain by focusing on food textures that are easily consumed by even the elderly and nutritional components that contribute to health. As part of these efforts, since we play the role of a hub that links upstream suppliers and food manufacturers, which are our customers downstream, we will seek to gain renewed recognition of this presence and pursue added value that only Lacto Japan has the capability to create.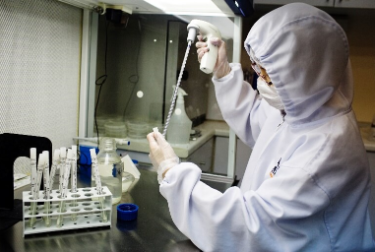 In recent years, there has been a growing demand among people of all ages to increase their protein intake in order to improve their health. Milk-derived "whey protein ingredients" are attracting particular attention as a key ingredient and needs are increasing.
Lacto Japan provides protein ingredients that match the needs of our customers by utilizing our supply network in the dairy products import business.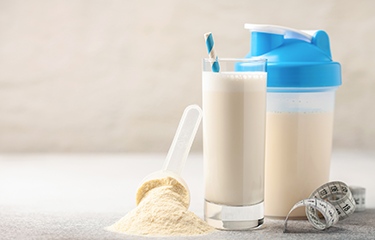 "Plant-based foods" are attracting increasing attention from the perspective of health and environmental protection. In 2021, Lacto Japan established a new department to handle functional food ingredients and began importing and selling plant-based milks such as oat drink. We plan to continue to increase the variety of our products while monitoring market trends.
In tandem with the diversification of people's lifestyles, demand for food products is also changing. In response to these changes and new needs, Lacto Japan is introducing and proposing a variety of ingredients to food manufacturers that are its customers. At the same time, we have started new initiatives such as proposing combinations with other functional ingredients, not limited to dairy ingredients, which are our main products.
Furthermore, in our Asian cheese manufacturing and sales business, we are also proposing ways to eat cheese that match local food cultures, and recently we have been developing plant-based cheese that meets the needs of "vegans."